She is one of the prettiest girls to ever grace the adult world, and her talent has been building up since the day of her debut until today, giving Jillian Janson the status of a true porn superstar. And she's only 21! In fact, her natural grace, her impressive body, her undeniably gorgeous face, and the enthralling elegance of her motion helped her to get to the top of our readers mental list of fantasies and become the Orgasmatrix's Pornstar of the Year 2015, a purely symbolic award but totally democratic, voted by seasoned and very demanding porn consumers.
Jillian looks and sounds beautiful, but we wanted to see if she's also the sweet cute adorable angel that she seems, so we tried to talk to her expecting a door slamming in our faces, but guess what: she's still more amazing and warm-hearted and kind than we could ever expect. She's a real deal!

Hi Jillian, I'm sure you get bored with some of our questions as journalists always tend to ask about the same things, but there's no interview in Spanish yet and your legion of fans in Spain really wants to know more about you. First of all we would like to congratulate you on your excellent work and for the awards you have won. In just three years you have become one of the most acclaimed international pornstars. In Orgasmatrix you were chosen as the best pornstar of 2015, and our readers have very demanding taste. So our first question is: What do you think is the reason for your meteoric rise and what do you think your fans value most about you? How do you stand out from other adult performers?
Well firstly, I want to thank you so much for interviewing me for Orgasmatrix. It's great to know you think so highly of me. It's such an honor and very sweet of you. Your wonderful compliments mean so much to me, because it helps me understand and admire in myself what you all see in me. I give everyone my genuine personality as I have explored and adventured through the obstacles and opportunities in my life. The past few years I've learned so much about who I truly am while also learning so much about others. I accept myself in any shape or size and I feel the positive energy I release separates myself from others. I think of others before I think of myself, even though I'm very independent… I'm a very outgoing, open minded, spontaneous, adventurous old soul.
You filmed your first scene three months after turning 18, specifically for Amateur Allure. Is it something you already had planned to do when you were a minor or was it more of a sudden idea? Why did you choose this particular studio? How did you feel in your debut?
Not necessarily but the signs led to it. I've been watching porn videos since I was about 12. At 18 an ad popped up searching for potential models. I didn't realize that I could make adult modeling into a career until after my first trip to California! The first agency that reached out to me kept the conversation informational and professional. My first few times performing was pretty nerve wrecking. But, the experience also gave me an amazing ray of confident energy, which helped to convince photographers that I knew what I was doing.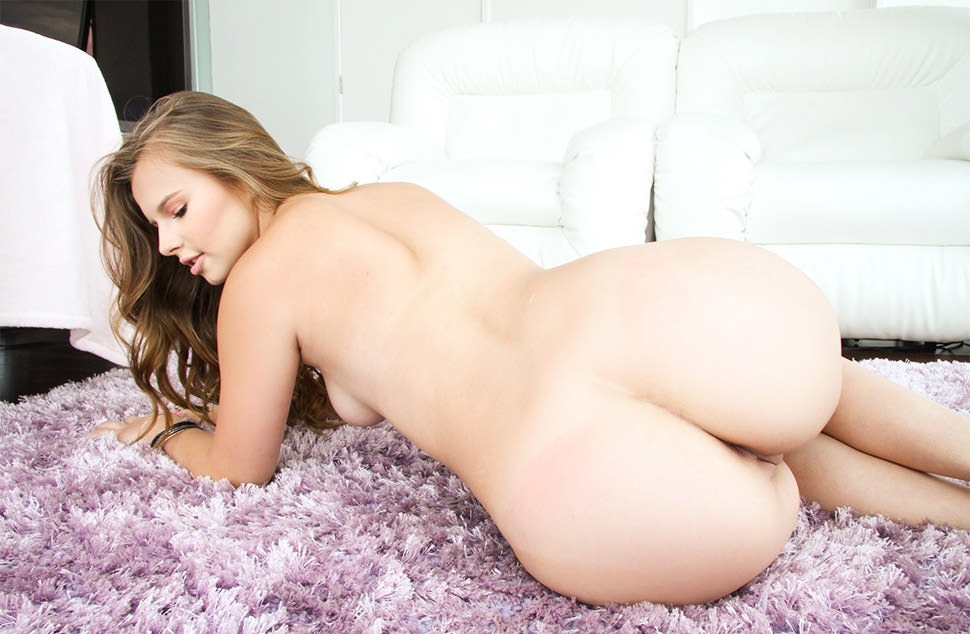 Do you think your sex life before entering the porn industry was similar to other girls your age, or were you sluttier than the others? Were you especially promiscuous during your teenage years? How many men had you fucked before getting into porn?
Oh yeah! Definitely sluttier than others. I never could kiss and tell because they'd end up blabbing my business around the entire school. This brought on a lot of bullying in my high school days unfortunately, but I never let that stop me from being myself. I wasn't able to express myself fully until I started in the industry. As far as the number of men I slept with before the industry, let's just say they can't be counted with just 10 fingers.
Besides being with lots of men, did you try threesomes, interracial anal or lesbian relationships, or other practices that you've later experienced in porn?
In school I used to imagine what it was like to be with a girl, but I never had the guts to ask one out for the risk of being rejected. My first experience wasn't until I was in the industry, but my first threesome however happened with two Spanish brothers I knew from the neighborhood when I was 15. I was also into Interracial before I even knew what the word meant.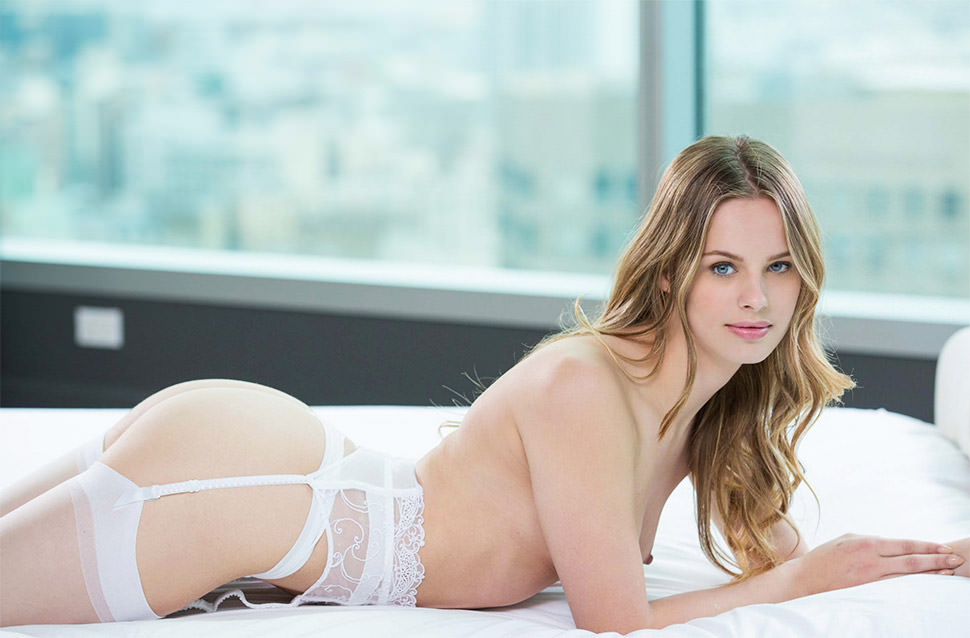 In other interviews you have explained that at age 18 you shot your first movie and you kept it secret because you were in high school, but your classmates discovered it and spread it around through Twitter. That caused you to abandon your studies and move to California. Would you prefer things had gone differently and had continued your studies, or was this a lucky disaster?
Of course I wanted to be the first one on my mother's side to graduate high school, but I really don't regret it. I would have loved to finish in order to get it out of the way so I don't have to do it online like I'm doing now as it takes time out of my busy day, but I do what I have to in order to pay for my mistakes. I am just happy that I didn't waste time or money in college doing something I wasn't even sure I wanted to do. I wanted to be in the entertainment business, but didn't quite know where my niche was until I found my destiny in front of the camera. Eventually I want to go back to school to learn more about design, editing, and photography.
You had your first lesbian scene with Sharon Lee. Have you had lesbian relationship in your personal life?
I've had quite a few lesbian experiences since my first girl on girl scene. She opened up so many curiosities that were explained the minute I put my mouth on her succulent breasts and her sweet pussy! I would love to someday have an actual relationship with the woman of my dreams. However they are too complicated for me sometimes so it would take a girl with a really sweet heart to win me over!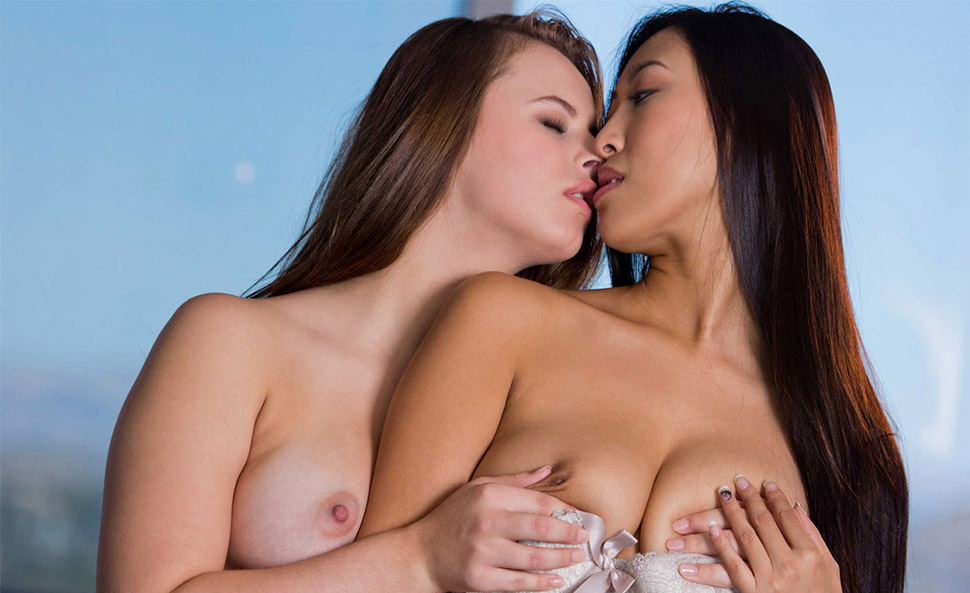 Saliva is one of our favorite fetishes and it seems that you also seem to be passionate about it. I love how you spit, drool, and slobber on dicks. It looks like this is not an act. Do you really enjoy wet, sloppy blowjobs as much as it seems?
Yes they are the best! I find it so soothing in my mouth to feel hard yet soft cock sliding down gently with my soft lips spitting warm stringy saliva! I get so caught up in the moment!
You have said in other interviews that you are a very clean person and that you started swallowing cum originally so it wouldn't leave any stains. Do you really like swallowing cum? How do these giant pornographic cumshots taste?
I pretty much said that when I had sex at my house. My mother was home sometimes when I had a guy over but I wouldn't let that spoil my fun. So instead of having to use towels or to go rinse off, making it obvious what was happening, I preferred it down my throat! I somehow trained my mind to make the cum taste like nothing. I'll hold my breath a little and then suck my tongue to kind of get the big load of taste out, but I do enjoy the after taste! Some people though don't take care of their bodies as well as others so their load is a little harsher than others.
I believe you filmed your first intercourse scene with Fucked Hard 18 and you ended up fucking with the actor off camera. Esperanza Gomez told us a similar story. Is this common in shootings or more of an exception?
Haha. Well I was really in the moment and attracted, which made the sex all the better and guaranteed a great natural video. Then afterwards we just pressed stop on the camera and moved it to the bedroom. That was the only time I felt the need to do that. I feel it's a very common thing in the business if a talent or a crew member get the hots for each other. I stay away from that especially after that incident.
It seems that you were born in a poor family with limited resources. Did needing more money motivate you to become an adult performer? If you could make more money working as a waitress, would you do that instead?
It was never about the money. Of course after I realized how well I could do in the business, that was an added bonus. At first it was for the sake of my sexuality. I love being able to express who I am, with or without clothes. You can't do that as a waitress. You're wrapped in a cocoon where you're stuck doing the same routine over and over with no chance of travel. This industry does so much more!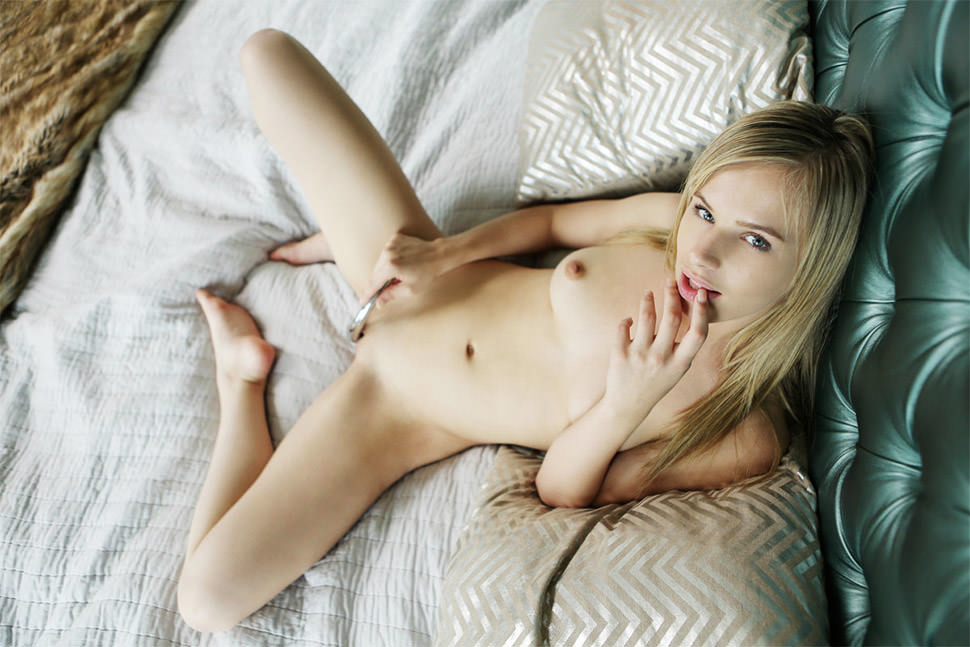 Many actresses claim they get off during scenes, but sometimes they seem like they are just saying this to please their fans. Off the record some admit how hard it is to get off during a scene when there is so little privacy and so many cuts. How often do you get off in your films? Can you recommend us some scenes that you remember you had a real orgasm?
Yes that is a very common distraction, but honestly I have been able to train myself to look past that and feel the way I want to during the scene as long as the partner and I are into each other it doesn't bother me. I've honestly had real orgasms in every single one of my scenes but the scenes that I squirt or have anal sex in are the ones that usually make me explode the most!
In Blacked we have seen you swallowing huge cocks like Prince's. What's the largest cock you have swallowed? 10 inches? After having sex with these kind of monsters, can you climax with normal men not involved with porn? Doesn't their ridiculous dimensions make you laugh?
Yeah around 10 or 11 honestly I could handle a pretty big cock in my pussy and even down my throat. I can relax it enough to where it goes very deep. Yes I can still cum regardless of any size. My orgasms also depend on what they do to me physically such as rubbing my clit or licking on my skin by my ear or in any one of my turn on spots. Sometimes though if the guys cock is too big, the sex isn't as pleasurable.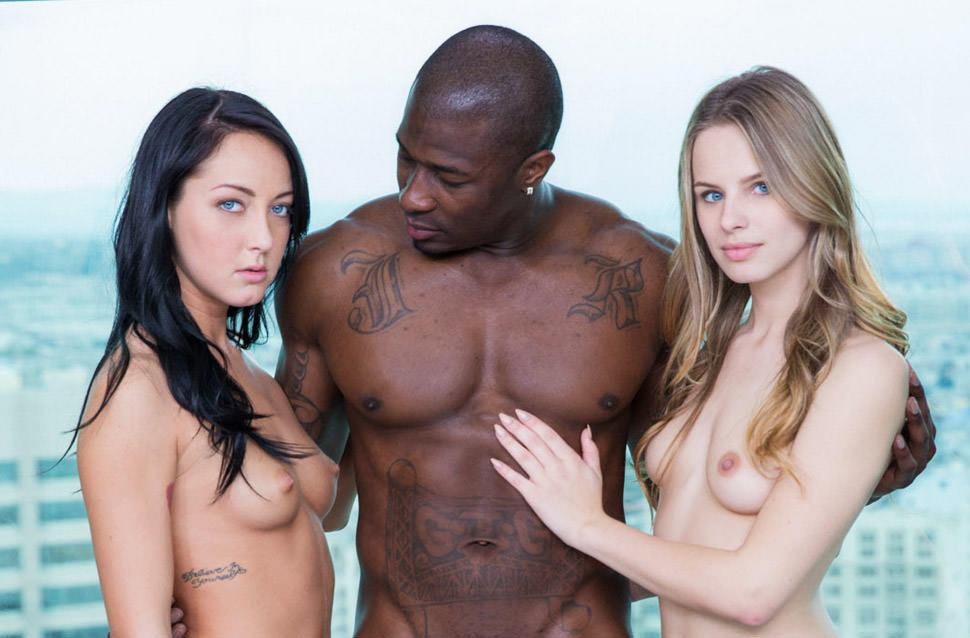 Nowadays you're a specialist in anal sex, but your first anal scene with Evil Angel looked somewhat painful. Can you explain a little about that first anal scene with Chris Strokes?
That was the day my pussy took a pretty rough beating. I had worked all week and was very sore, which by accident I had a cut. It was a very spontaneous decision to allow him to put it in my butt, because I wanted to feel it… I was horny but it hurt in the other hole. Once I relaxed everything was good but it was my first time with a very long dick so it took awhile to get used to.
Your first lesbian scene with Karla Kush drives me crazy. Two sublime beauties eating it all. It seems so passionate that it seems that you had been waiting quite a long time for this occasion. Do you also fuck with girls in your personal life? Could you tell me any adult pornstar that you have had sex with in your personal life?
I would love to take a girl home with me after work, but I really don't involve myself. Keeping costars, especially make talent, at a distance helps keep everything level. I keep to myself usually unless I want to go grab drinks with some girlfriends or go to the club. Otherwise I haven't found the right girl to take home and have my way with!
In this scene she gave you cunnilingus, but you didn't reciprocate. In your first year of shooting you were quite conservative in practices like anal sex, rimjobs, double penetration and A2M. Nonetheless, now you're totally thrown into this kind of rough sex. What changed. Is it just that these scenes pay better or do you really like doing those things in your personal life?
Not really the money, but the fact that I started doing more scenes with multiple people so I learned along the way the type the things people did to make the scene stand out. As well as what came to me natural!
What's next? Double Anal, rosebuds?
Honestly, I'm pretty happy doing what I'm already doing. At this time the farthest I will go is one cock in my butt and one in my vagina, besides guys alternating except no more than a few. I won't go the gang bang route or go too extraordinary. In fact I'd like get to know more about other females anatomy and making them cum, so I've decided to make my own company so I can do the things that come to mind.
As I said, it seems that nowadays you're an expert in anal. Is it something you have chosen or is it an industry requirement? Is it possible to be so successful without practicing anal sex in your personal life?
I choose to do it, but if it wasn't for the influence of the industry and the way it basically inform me about what it was and how to do it, it probably would have taken me a lot longer to allow someone to put it in my tight butthole. It's possible being successful without it, but once you kind of start doing it a lot of companies stop booking you for regular sex since the fans love anal so much.
How is Mike Adriano? We call him anal sommelier. It seems that he's not interested in pussies at all. Do you enjoy a scene with him, or is he like too much?
I absolutely love when he worships my butt, it's incredible since not many others are so into it the way he is. It didn't take me long in the industry to realize how much I loved my butt played with by a wet sloppy tongue. He's very passionate in what he likes and he keeps things simple, yet very orchestrated.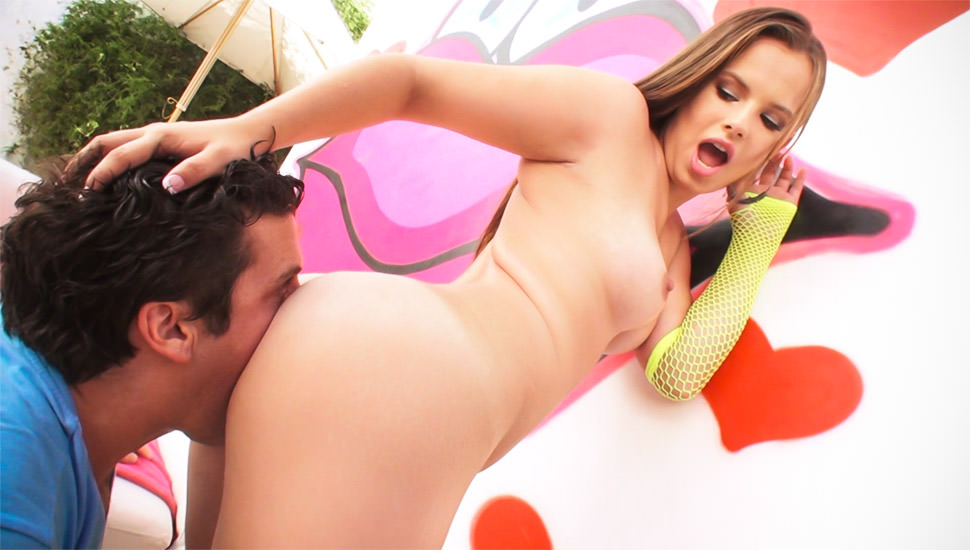 We think that this kind of acrobatic porn is unpleasant and very demanding physically. Does your ass need a lot of physical preparation to shoot such scenes? Could you explain how do you prepare yourself physically?
Usually all I need to do is clean my self out using enigmas and such 30 minutes prior to the shoot. Starting from the beginning I never really needed to use toys or butt plugs to prepare my butt for sex. Not until I met Mike Adriano of course, he helped me prepare off set one time and gave me the plugs to practice with.
In a few years you will leave the role of beauty teen to become an experienced MILF. We have recently seen a crowdfunding campaign of Dana DeArmond for getting breast enhancements. She claims that having big breasts is a requirement for MILF performers. Do you think that if you continue working as an adult performer you will be required to have a plastic surgery to be credible?
I don't adhere to what any person or article says about breast enhancements. They're for people who want that image… I don't, in fact. I admire those that keep it natural these days like I do. It's much more flattering to me to know you're comfortable in the skin you're in and you wouldn't do anything to change yourself for what society wants. I'll go farther in life being myself and who I want to be. Everyone can keep doing what they're doing. I don't judge. It's just not for me just like tattoos aren't.
Finally, when will you visit Barcelona?
I consider myself an adventurer and I absolutely love to travel, but I have no specific destination in mind since I want to go everywhere around the world. Just to name a few, Barcelona would be absolutely beautiful, as well as London, Rome, Paris, and so many other places I can not name them all!